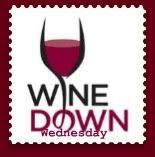 Today I'm joining a new blog hop titled "Wine Down Wednesday". You can click the button <----over there to link up too...and to visit some other bloggers. If you're visiting me from the hop, please leave me a comment so I know! I'd love to come stalk visit your page too.
Let me take just a couple minutes to introduce myself. I'm a single mom, raising 2 girls...full of spunk and sass. I blog to share my experiences whether it be good or bad. My humor and views may be offensive to some, informative to others and entertaining to most. I hope you'll stick around and give me a chance to brighten your day.
Now that I've gotten all of the formalities out of the way...HAPPY HUMP DAY Y'ALL!!! Today is actually my Friday. This time tomorrow, I'll be half way to the beach with Lollipop, Chiquita & Sunflower. We're stocked up with peach moonshine, sunscreen & our books. Do you really need anything else? After 4 days together, on a beach, with booze...I'm sure there will be plenty of material for me to write about in my next installment of "Clownin' Around PCB Style".
Maybe it's because I'm anxious to get the hell out of Dodge or maybe it's because my patience are just shot or...perhaps I'm surrounded by an abundance of living, breathing things that are begging to be beat, stabbed or choked!! Everyone (including the animals) in my house last night was driving me INSANE!!! Slou & Pops were both bickering and tattling on each other and not a single positive thing came out of either of their mouths. Every time I turned around Cheyenne (my 15 year old puppy) was under my feet or leaving me a puddle to clean up. I attempted to not let it all get to me...and even tried to cuddle and watch some t.v. with Slou, but just the fact that she couldn't lay still and every time she moved she literally bounced me on my bed...I finally (internally) lost it!!! I put her to bed at 9pm and cracked open a beer and finally RELAXED while I waited for my laundry to finish.
THURSDAY.MORNING.CAN.NOT.GET.HERE.FAST.ENOUGH!!!!
This morning, I breezed through nothing but green lights...and even saw a hot air balloon coming up the highway. These 2 things often happen at the same time....a few times a year. I always say it's a sign of a GREAT day ahead. As I'm jamming out and getting more and more excited about the weekend and pondering just how AHHH-MAZING my day is gonna be, I pull into my office park and laying all mangled and bloody...is a bunny rabbit!!! How does this factor into the equation of my FABULOUS day? WTF!?!?!
I'm not a tree huggin', anti-huntin' PETA member...but dammit, I am an animal lover and this totally put a big black cloud over my morning.!!!
But that was 5 hours ago!!! Now I'm on the downward slope of my day!!! I've got 3 1/2 hours til I'm out of here!!! Fingers crossed nobody ruins my mood after that.
Thank you for reading my ramblings today. If you enjoyed it, please click on the banner below to vote for me. I'm currently at #22 in my category (humor) and #120 overall. Every click, every day counts as a vote. Hope everyone has an awesome weekend...stay tuned for stories of our shenanigans.